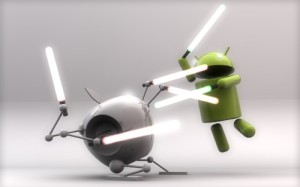 There are many tech start-ups that aim to solve a problem by utilizing technology. Most of these start-ups emerge from 'The Valley' out in California where Venture Capitalists and wealthy folk throw money hoping to have the next FaceBook or Twitter on their hands – businesses with no real solid business model that makes no money outside of advertising (but I will save that rant for another post). A lot of the start-ups are uber niche – niche is a good thing as a small company does not have the resources to take on a big sector of an industry or market. But I always often wonder the logic that some start-ups take when they support their Web app native app from one platform over the other – especially when the barrier for entry is very low – very low. (Instagram and Vine are examples of apps that were iOS first before Android)
I'm not necessarily talking about the 1-3 start-ups that are working on their apps out of a Coffee house or Momma's business, but I'm referring to the start-ups that have some funding such as Airbnb, Instagram, Uber, etc.. The dominant mobile platforms are Android and iOS, and many start-ups will usually embrace iOS before they go to Android (though that is slowly changing). But let's look at how much it costs to publish an app in iOS App Store and Google Play:
Google Play – $25/year to publish app
Apple App Store – $99/year + SDK/NDK fees ($250)
It is actually cheaper to publish an app on Android than on Apple – now, there isn't much of a difference there in my opinion, and I would postulate that most sane people would say the same. So the other important factor is programming – and let's be honest there are many tools that devs can use to port their code OR they can code in HTML5 and JS and use many wrappers. Or if you really want to go native, then there is not a big hurdle in finding native developers, and to be honest most start-ups should have at least 2 devs that can cross-program iOS and Android.
So then if that isn't the answer, we have to look at the psychology of targeting specific platforms (or at least I choose to 'take it there').  To be blunt, there is a perception that iOS is perceived as 'high class' in part due to its pricing from Apple. For this article's sake, let's just say a snobbery attitude exists hat has been cultivated quite cleverly by Apple that posits something to the effect of "Apple products are for those that prefer the finer things in life with". From a marketing perspective that is not necessarily that bad because as humans, well in Western society especially, we have a desire to attain opulence and the finer things in life – from as a child with our fascination with Barbie's and Hot Rods to our adult wishes of BMW's, designer clothing, big houses, we have been receptors of marketing messages that promote this message. Some of us will spend our money, even when we don't even have it, to go line-up at the Apple Store at the launch of a new iPhone or iPad. Developers tap into this murky technological psychology of brand perception and exacerbate this phenomenon – as technically, there is nothing that separates what an iOS vs an Android app can perform (the arguments even suggest that you can do more with an Android app). So the issue boils down to something that may seem confusing to someone that is rooted by economics of scale – though there are technically more Android devices out there, let's produce an app for the platform that 'appears better', because we look down on the other platform.
Snobbery exists everywhere – even with something as simple as an 'app' – there are social complexities that exist.
.::LiBM::.