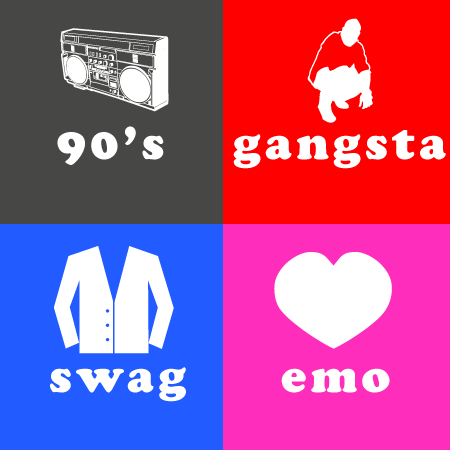 The 4 Types of Rappers
There are 4 Types of Rappers that we all know, love, hate, despise, and secretly want to be like.
The 90's Rapper
This is the rapper that thinks that Rakim & Eric B are still the President, and hope that Pete Rock & C.L. Smooth will get back together. Baggy pants are still a staple fashion, and using complex metaphors over a classic snare drum & clap mixed with a boring chorus – are the ingredients to 'Real Hip-Hop'
Top 90's Rappers:
Jay Electronica
Raekwon
Underground Rappers
The Gangsta Rapper
This is the Alpha Thug, spends his drug money on working with the popular producers and the best studios. Loves Scarface. Is not afraid to take pics or videos of himself with guns, knives, and using banned narcotics. Likes to use a wide range of simile's to explain how he will shoot and kill you, your family, and even retroactively kill your deceased great-great GrandFather from the civil war.
Top Gangsta Rappers:
Young Jeezy
Rick Ross
Gucci Mane
The Swag Rapper
This is the Rapper whom gets his haircut at least once a week, cause you, black ppl's hair grows back very fast. Always has the newest shoes and gear, frequenter of the Luxury Car Rental stores – cause appearance is everything, right? Makes sure to buy bottles upon bottles in the club, pouring liquor into his entourage's mouth, and strangers. And always takes a bad bitch back to the hotel – then when its time to checkout, its back to Mama's house … Until next weekend, and 'We Do it again'.
Top Swag Rappers:
Ma$e
Tyga
Any rapper that is highly materialistic (Yes, its a lot)
The Emo Rapper
This is the rapper that likes close fitting jeans, and low V-neck tops. Working out at the gym isn't that important, food isn't as important either. Comes from the suburbs, but knows about hardships …. Talks about real problems like bitches that snort too much of your cocaine, those type of issues. Likes to sing too, and thinks they are 'Pseudo Rockers' so will have a skateboard and guitar too. Also this rapper is very expressive with his feelings and emotions, sometimes a bit too much.
Top Emo Rappers:
Drake
Drake
And, Drake
Yeah, we know there are more types of Rappers that could possibly be added to this list, feel free to list those types in the comments below.
.:: LiBM ::.
—
Credits:
Video Produced By: Urban Comedy Network
Director, Writer, Editor: Desmond LiBM B