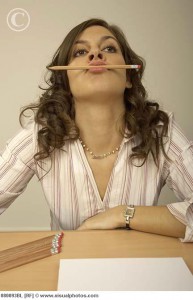 Always be No.2
This one is definitely for all the geeks and nerds out there. Ever noticed how most pencils out there are No. 2 pencils? That is the only pencil we really hear about, so it made me wonder what happened to pencils No.1 and so on. Apparently there are many grades of pencils and the number relates to how hard the lead is in the pencil. So for everyday use, such in schools, the No. 2 pencil is the most commonly used because in the spectrum of pencils, it is the middle grade between the hardest lead and lightest lead. Apparently in the engineering and architecture fields, a harder lead pencil is used.

Yes, I know, very exciting stuff.
One interesting note related to pencils, but more relates to the history of the litigious nature of the U.S.:
"On 30 March 1858, Hymen Lipman received the first patent for attaching an eraser to the end of a pencil. In 1862 Lipman sold his patent to Joseph Reckendorfer for $100,000, who went to sue the pencil manufacturer Faber-Castell for infringement. In 1875, the Supreme Court of the United States ruled against Reckendorfer declaring the patent invalid."
File this under the category 'The more you know'
.:: LiBM ::.