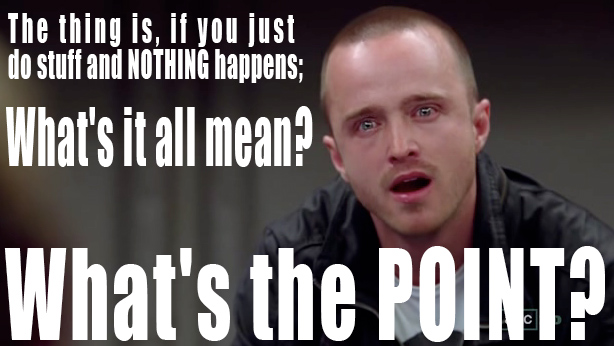 Where art thou Consequence
First, 'Breaking Bad' has to be thee best, or one of the best TV series on air right now. This post is in reference to the episode 'Problem Dog', where 'Jesse' sits in an Addiction Help Group where he comes to a revelation regarding self-help. He poses the question, "So, if we just do stuff, and nothing happens, what does it all mean? What's the point?". He is referring to the idea of 'accountability' and 'consequences'; see, Jesse had been doing some sinister actions and yet he hadn't been held accountable and received no consequences (jail, retribution, etc.); and he is questioning what it all means – why do some people get to do things and suffer no consequences for their actions? By consequences, I'm not necessarily referring to the 'negative', but I sometimes think we are increasingly living in an era, where people are doing wild/outlandish things, saying things – but no one questions and/or holds them accountable. I guess the question of accountability has always existed, with the rich & powerful using their status in of itself as a rationale for not being held accountable – they believe they have a certain sense of self-entitlement to say or do things 'just because' they can, and no consequence can affect them.
It is almost like we are in the 'Wild Wild West' of Free Speech:
Chief Keef
– openly talks about on-going investigations
Kim Kadarshian
– we all know her rise to fame, and now she has a fragrance line
The Game
– Videotaping a beatdown of '40 Glocc' (yes, that's his name)
But I find with the rise of Social Media and our increasingly 'free expression' (which there is nothing wrong with that), that no longer does this sense of 'fleeting accountability' can be reserved for the rich & powerful, but can be reserved for the average Joe & Jane. You can go on the social networks and see the constant nonsense of people spewing out comments, recklessly, as if they feel they can say what they want, with out feeling they have to back-it-up with something called 'substance' or 'logic'. Is this something that I am just seeing? Or can anyone else out there relate?
Free Expression is a beautiful thing, it really is, many nations are currently fighting & dying for it as we speak, but let's not believe we can just say things and not be held accountable for it. Every action should have a consequence to it, or a re-action; such is the law of nature, a law that we all abide by.
.:: LiBM ::.