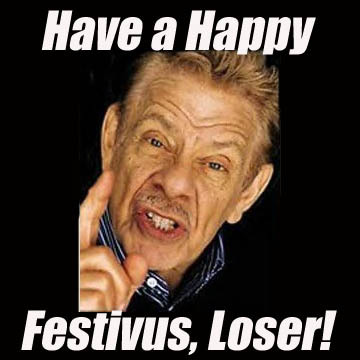 Festivus Greetings!
Spawned from a Seinfeld TV episode in 1997 as "A holiday celebrated by those frustrated with the commercialism and pressure surrounding the Christmas/Hanukkah season", this secular holiday seasons has gained traction and is now practiced by millions of people across the world – I am sure seriously and jokingly. But really, this holiday is interesting to me nonetheless because I am sure it expresses feelings that many of us feel during the Christmas season; with the family members, shopping tribulations, awkward social dinners & parties, and so on. One could easily dub some of the elements of the Festivus holiday with a dose of 'reality'; as the elements allow one to get as Young Jeezy said, "As Real as it Gets". Enter the Rituals:
Airing of Grievances
The celebration of Festivus begins with the "Airing of Grievances", which takes place immediately after the Festivus dinner has been served. It consists of lashing out at others and the world about how one has been disappointed in the past year.
– oh man, I am sure that many secretly wish & desire that they can do this – everyone can relate to this as I am sure there are many people you want to air out, fighter jet style, to let them know what you think of them and how they have disappointed you over the year(s).
Feats of Strength
"As described in the "Festivus Book", the head of the household selects one person at the Festivus celebration and challenges that person to a wrestling match.[8] The person may decline if they have something else to do, such as pull a double shift at work. Tradition states that Festivus is not over until the head of the household is pinned in a wrestling match."
Other Festivus rituals include the Festivus Dinner that usually includes a subpar dinner, and the Festivus Pole; which replaces the 'Christmas tree' with a simple, simple, simple facsimile (minus the trimmings). There are even books and a website to support and promote this holiday (http://www.festivusbook.com/), and on YouTube many people have recorded their celebrations to share the world.
Even a company is making a business out of making a 'Festivus Pole', SMH

In all, I am sure the creator of Festivus, which is one of the Seinfeld writers "Dan O'Keefe", never thought that this holiday would be what it is today, but I guess when you connect with what people are feeling, anything can happen …. Happy Festivus to all!
Sources: http://en.wikipedia.org/wiki/Festivus