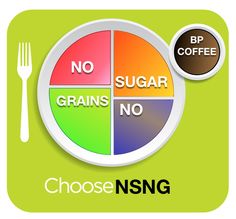 NSNG stands for 'No Sugars, No Grains', coined by celebrity Trainer Vinnie Tortorich, is a nutrition plan (don't like using the term 'diet') that is great for keeping the weight off.  The idea behind NSNG, is that sugar and grains are hard for the body to process and burn off; thus an excess of sugars and grain products lead to weight gain. And when you think about it, I'm sure you can see the parallels of eating too many grains like your cereal in the morning with that bagel — this mix of 'Simple Carbs' takes hours if not days to fully burn off if you are not physically active for the day. So removing or severely reducing the amount of sugars and grains from your palette will help keep the weight off. Now, by 'sugars', this refers to any added sugar (natural sugars from fruits are okay).
So WTF to eat?!?!
So you might be saying, 'Hey, what am I supposed to eat then if you take out my morning cereal and bagel?!?', and I hear yea – that is why I have made an example meal plan:
Breakfast
– Plain Greek Yogurt w/ frozen or natural fruits
– Bacon and Eggs
– Sausage
– Sweet Potato
Lunch/Dinner
– Ground Turkey or Chicken
– Veggies: Cauliflower, Broccoli, Carrots, Spinach, Kale
– Sweet Potatoes, Potatoes, Plantains
Just try it for a week, and you'll start seeing the differences. For more info visit:
Oh and of course, it is good to do physical activity at least 3 times a week, 168 hours in a week, I'm sure you can find 3 hours there for yourself and betterment.