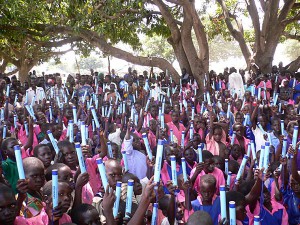 The LifeStraw
A look at a device used for water filtration – in the size of your hand.
LifeStraw includes LifeStraw and LifeStraw Family, which are complementary point-of-use water filters designed by the Swiss-based Vestergaard Frandsen for people living in developing nations and for distribution in humanitarian crisis. Most recently, LifeStraw and LifeStraw Family have been distributed in the 2010 Haitian earthquake and 2010 Pakistan floods. LifeStraw filters a maximum of 1000 litres of water, enough for one person for one year. LifeStraw Family filters a maximum of 18,000 liters of water, providing safe drinking water for a family of five for up to three years. It removes 99.9999% of waterborne bacteria, 99.99% of viruses, and 99.9% of parasites. LifeStraw removes 99.9999% of waterborne bacteria and 99.9% of waterborne protozoan parasites.
Source: http://en.wikipedia.org/wiki/LifeStraw
The principal maker of the LifeStraw is Vestergaard Frandsen, check them out
here
.
.::LiBM::.