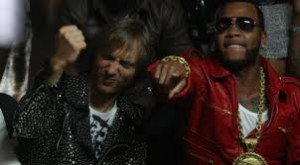 The Euro Flava on Hip-Hop
2010 can probably be seen as the year of the 'teaser', where hip-hop got a little sugary taste of euro flavor. And the equivalent to the creepy guy that delivered the sugary snack was none other than Euro house star producer David Guetta. With chart-topping tracks for Kid Cudi, Estelle, Flo Rida, and Black Eyed Peas, other hip-hop and urban artists are taking note and realizing a new potential and opportunity. Some absolute truths exist with the euro market;
A) it is a big-ass market,
B) most Europeans already embrace the hip-hop culture
Thus, as hip-hop grows and continues its syntheses, 2011 will be the year of more and more songs embracing the Euro flava'. Rihanna just dropped a literal euro album, and everyone from Usher to Ne-Yo has singles in the works.
However, some of the hip-hop purists abd your general haters, have voiced some of their dis-taste for this evolution – citing it as 'pop', 'euro trash', and turning hip-hop into shit. What I think it is actually doing is tapping into a sub-genre that for some reaspn took very long for artists to explore. Hip-Hop has many Flavors, and this particular one will be somewhat on the pop tip; with mindless lyrics about club life, e-popping, and alcohol drinking rhymes, but isn't it better than the current 'club hip-hop' trash of Wocka Flocka and other 'hits' that only talk about shooting and drug dealing? I guess I am referring to deciding between picking on one of the lesser evils, but from a societal standpoint, music laced with heavy degradation and negativity can't be good. We are probably a long way off for clubs to be playing Talib Kweli or Immortal, but give me a euro-pop track with layering instrumental compositions with mindless lyrics, over bass-heavy coke-laced raps.
And really, life is all about innovation & progression, and that is what hip-hop has always done – I'm not saying that this sub-genre should dominate the artform, but it should be a viable repertoire in an artist's weaponary and should be similied to 'dirty South', 'west coast' hip-hop style.
David Guetta feat Chris Willis, Fergie, LMFAO

Flo Rida – Club Can't Handle Me ft. David Guetta